The main machine of the line is a baling press. The press is of vertical construction.
Baling presses of synthetic rubber bales
The main function of the synthetic rubber packing line is to compress the rubber extrudate into straight-walled briquettes with given dimensions and place them on wooden or metal pallets.
It is a fully automated process.
The extrudate is poured into the press from above, directly into the press chamber. The pressing processis controlled by a control system via hydraulic elements using pressurized oil supplied by a hydraulic unit.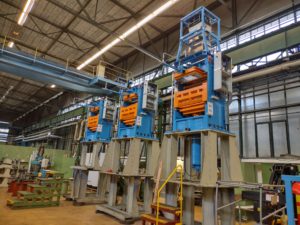 The line consists of the following machines in order of processing:
Main characteristics
| Machine type | | 05231 |
| --- | --- | --- |
| Bale capacity | tons/hoour | 4,5 – 5,5 |
| Bale capacity | briquettes/hour | 150 |
| Adjustable compression force | tons | up to 190 |
| Pressure | bars | up to 280 |
| Dimensions of the chamber | mm | 700 x 350 x 180 – 220 |
| Bale weight | kg | 34 ± 2,5 |
| Bale weight variation | kg | ±0,5 |
| Time of technological cycle | s | 24 |
| Net cycle time (without feeding) | s | 16 |