The main focus of our production program are multi-roll calenders.
three-roll calenders
Our calenders are manufactured and designed with the utmost attention to product precision and quality, long life, easy handling, and costs saving maintenance. Our machinery is capable of achieving a perfect surface treatment of the rolls. Each cylinder supplied comes with a quality certificate.
Rolls are independently driven with maximum speed accuracy and friction adjustment. All equipment is supplied with the customer's application in mind. With regard to deliveries worldwide, we are able to cast solutions exactly according to the customer's requirement. Our calenders are usually delivered as a part of the calendering line, all Buzuluk made. For more information, you can check the calendering lines section.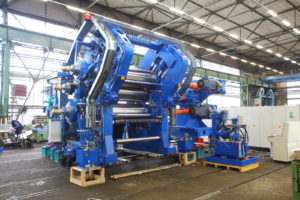 Technical parameters of calendars
Machine type
03235
03925
14302
03603
03673
Roll diameter
mm
300
500
650
650
710
Typised roll length
mm
750
1250
1700
1750
2500
Roll configuration
Y
Y
I
Y
Y
Application
foil drawing
Foil drawing, rubberizing
Foil drawing, rubberizing
Foil drawing, rubberizing
Foil drawing, rubberizing, conveyor belts
Typised roll speed
m/min
3-30
3-30
3-30
3-35
1,5-15
2-40
Recommended drives power
kW
3 × 22
30-40-30
1 × 110
60-80-60
3 x 58
3 x 145